All juice is made to order with fresh ingredients pure, natural and free from additives and preservatives. Heres to your health!

Fresh Squeezed Fruit Juice 12oz $4.25 Orange or Grapefruit
Vegetable Juice Made to Order 12oz $4.25 Carrot or Carrot with two of the following: cucumber, parsley, apple, lime, lemon, ginger, garlic, celery, red or green pepper, cabbage, brocolli or spinach.
ALL FRUIT SMOOTHIES 16oz $4.25
All of our smoothies are made with 100% all fruit juice and frozen unsweeted fruit. Watch your smoothie made to order as we are proud of our ingredients. Omega size your smoothie add ground flax seed for $.75

**New for 2011 Green your Smoothie-Add 6oz of carrot juice mixed with your choice of spinach or cabbage or 6oz of fresh squeezed orange juice to your fruit smoothie for an additional $2.00.

Bashful Smoothie: mixed with banana, apple juice and the choice of the following fruit: Banana, Strawberry, Blueberry, Peach, Raspberry & Pineapple.

Carribean Cooler: a blend of strawberries, banana & peach nectar.

Ambrosia: a blend of bananas, strawberries and orange mango.

Jamaican Joy: a blend of bananas, raspberries & papaya nectar.

Berry Blueberry: a blend of bananas, blueberries, strawberries and 100% cranberry juice.

Chocolate Banana: a blend of banana, soy milk and all fruit fudge sauce.

Australian Kiwi Berry- a blend of kiwi, banana, strawberry, cranberry & peach.

***New 2011 Mango Tango- a blend of peaches, banana & mango juice.

Berry Yogurt Shake- a blend of strawberry, pineapple, peach, apple juice, banana and fat free yougurt (this smoothie contains dairy).

PB & J Shake- a blend of milk, yogurt, strawberries, raspberries and peanut butter (this smoothie contains dairy).

Pumpkin Pie Smoothie- Pumpkin, spices, soy milk, & sugar free maple syrup.

Algae Shake- a blend of soy milk, banana & algae protien powder. $5.25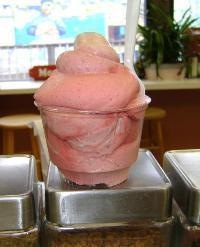 Small $4.75 Large $5.75 Kiddie $4.25 Add a topping .65 or 3 for $1.50 Choices include: Strawberries, blueberries, raspberries, non dairy chocolate chips, coconut, walnuts, almonds, peanut butter chips, freshly ground flax seed or the Famous All Fruit, Fudge Sauce. Add a flavor to your whip .65 additon of frozen fruit to the frozen banana, choice of strawberry, blueberry, peach, pineapple or raspberry.

Banana Whip Split $7.75 Banana whip topped with strawberries, blueberries, slivered almonds & all fruit hot fudge sauce & whipped cream.

Fruit Cup Whip $7.75 Freshly cut fruit topped with banana whip and granola.

Heaven on Earth $6.25 A homemade brownie topped with banana whip and all fruit fudge sauce.

Sundae Whip $6.25 Banana whip with all fruit fudge sauce, nondairy chocolate chips and Whipped cream. Make it kiddie size $5.25

Kiddie Peanut Butter Cup $5.25 Kiddie whip with peanut butter chips and all fruit fudge sauce.

All Fruit Parfait $9.75 Start with strawberry whip topped with fresh strawberries, next blueberry whip topped with fresh blueberries, and then raspberry whip topped with fresh raspberries and finally top it with whipped cream.

Upside Down Cereal Bowl $5.75 Banana whip topped with Cheeerios, Strawberries and blueberries.

Coconut Joy $5.75 Kiddie whip layered with all fruit fudge sauce, coconut & slivered almonds.